Project Managers
Together with our management team, each of the project managers at Security Alliance is dedicated to securing your future. Our company has the flexibility needed to adapt to changes on the ground, and our managers are there to make the call whenever required.
Paul Guerra
Belmopan, Belize
Paul has several years of experience in management in the security industry in Los Angeles, California, and was an active member of the LAPD's Crisis Response Team. Since September 2009, Paul served three years as Guard Force Commander at the U.S. Embassy in Belmopan during which time Security Alliance was awarded "the Number One Local Guard Force for Small Embassies Worldwide. Paul currently serves as Project Manager in Belize. In addition to having training and background in Overseas Executive Protection and overseeing Security Alliance's Executive Protection Program in Belize, Paul has also run protective details for clients such as Hershey and Coca-Cola.
Glenn C. Huiswoud
Paramaribo, Suriname
Glenn has been working at Security Alliance since 2010 after retiring as Guard Force Commander for a U.S Embassy contract under another security company. He is also a retired soldier from the Suriname Army, an entrepreneur, and a retired staff manager for the British American Insurance Company. His leadership track record, combined with his firsthand experience with combat, is a valuable asset to our leadership.
Brad Kosderka
New Orleans, Louisiana
Brad began his security career in 2005 as a Security Officer for Global Marine Security which provided security at ports and protected US Citizens on board foreign cargo ships. He moved on to the position of Account Manager for Eagle Eye Security in Hattiesburg, Mississippi where he managed twelve security contracts including department stores, clubs, and residential subdivisions. In 2018 he joined our security team as a Project Manager for Textron Systems in New Orleans, Louisiana where he oversees access control and video surveillance for all of Textron's facilities, addresses all security violations, and as a trainer, provides security and active shooter training for Textron Systems.
Harold Lane
Miami Dade County, Florida
Harold has been with Security Alliance since 2010. He started out as a Level III Security Officer, and an Assistant Project Manager and eventually was transferred to Georgetown, Guyana as the Project Manager/Country Manager for the US Embassy, the United Nations, the Peace Corps, and Mercy Hospital as well as other local contracts in that country. Upon returning to the States, Harold became the Project Manager for the Miami Dade County Water and Sewer (WASD) Contract. Harold brought with him 20 years' experience in managerial positions for loss prevention for two large retail companies and 11½ years in law enforcement with the San Diego Police Department and the Imperial Beach Police Department. Harold brings both business and law enforcement expertise to the table. His law enforcement experience includes burglary investigations and working in a Border Crimes Task Force. Harold holds certificates for Advanced Interview and Interrogation from Wicklander-Zulaski & Associates, Inc.  He served in the U. S. Navy in Vietnam and received the Good Conduct Medal, A Meritorious Unit Commendation, the Vietnam Service Medal, and the Vietnam Campaign medal.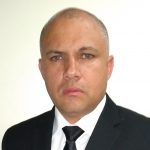 Milton Lopez
Quito, Ecuador
Milton was recently hired to run our Embassy Operations in Ecuador as the Project Manager. Milton brings to the table 6 years of Law Enforcement experience from the Miami Dade Police Department where he received outstanding evaluations and commendations for his dedication to duty. His supervisors credited him with a high level of motivation, proficiency in handling assignments, and in demonstrating sound judgment when performing his daily duties. Milton was born in Ecuador and was considered to be a perfect fit for the Project Manager's assignment in that country. Milton studied at ITT Technical Institute and holds an Associate's Degree in Criminal Justice.
Juan Ortiz
Miami Dade County, Florida
Juan joined our Security Alliance team in 2007 and worked as a Security Officer and Site Supervisor. He was promoted to Field Supervisor with the rank of Lieutenant in 2008 and promoted to Captain in 2011. He was a very effective Field Supervisor and a hard worker which earned him the position of Project Manager. Juan is a graduate of Braddock High School and studied Criminal Justice Technology at Miami Dade College. He currently manages commercial accounts for Security Alliance.
Anthony Socarras
Miami Dade County, Florida
Anthony possesses a master's degree in public administration, a bachelor's degree in Criminal Justice, and is a 33-year veteran of the Miami Dade Police Department. Anthony brings a high degree of knowledge and experience to Security Alliance. His investigative experience in the Miami Dade Police Department includes Vice, Intelligence and Narcotics, Auto Theft, Major Fraud, Arson, Sex Crimes, Homicide, and Organized Crime. He possesses extensive managerial and operational experience and was a command-level officer in various police districts and investigative bureaus. Anthony retired honorably as a Police Captain in 2008. He has been the Internal Services Department (ISD) and Water and Sewer Department (WASD), Project Manager since he started with Security Alliance.
Nillian Valedon
Miami Dade County, Florida
Nillian joined our Security Alliance family in 2014 as a Security Officer. In 2016, because of her excellent customer service, she joined our 24/7 Dispatch Team, where she excelled. In 2017, she was promoted to Lead Dispatcher, demonstrating great leadership. In 2018, she was given the Fleet Coordinator title, which includes handling the company's vehicle maintenance, electronic tracking devices, insurance claims, and audits of our fleet's fuel card program. She is a hard worker, a great team player, very effective on all tasks and roles assigned to her. In 2021, her strong administrative background earned her the position of Project Manager.
Nillian is a graduate of Adolfo Grana Rivera High School, studied at the UPR University in Ponce, P.R. and studied Criminology at the Institute of Criminology in Bayamón, P.R. She currently manages the University of Miami contract.
Wilfredo Arroyo
Orange County, Florida
Wilfredo has been in the security industry for 8 years. He began as an armed guard for a major armored truck company.  He supervised for several years at a major contract for us in Central Florida. Wilfredo is presently the Project Manager for our cannabis industry contracts in the State of Florida. Wilfredo is a graduate of Dr. Alfredo M. Aguayo School in Ponce, Puerto Rico. He is the newest member of the Security Alliance family.